DBS India absorbs Lakshmi Vilas as court rejects shareholder stay plea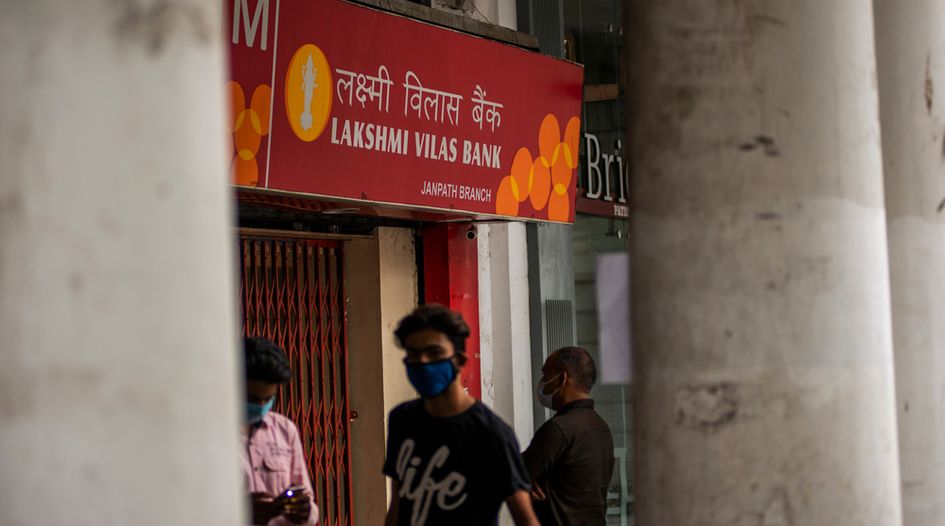 The Reserve Bank of India has completed its plan to fold crisis-hit lender Lakshmi Vilas into Singapore's DBS, after courts in Mumbai and Chennai rejected shareholder pleas to stay the US$335 million merger.
Lakshmi Vilas Bank (LVB) was officially merged into DBS Bank – south-east Asia's largest lender – on 27 November.
The merger comes less than a month after the Reserve Bank of India (RBI) placed LVB under a moratorium, as a result of  LVB's financial position began "rapidly deteriorating" with rising non-performing loans.
The RBI published an amalgamation scheme on 17 November, proposing that all LVB branches function as part of DBS India and to write off the entirety of LVB's paid-up equity capital – meaning shareholders stand to lose their investments.
In a recent circular, the RBI said DBS India has a "healthy balance sheet, with strong capital support." DBS, which has a market value of about US$47 billion, is expected to inject ₹25 billion rupees (US$335 million) into its Indian subsidiary under the merger plan.
LVB will write off ₹3.18 billion (US$43 million) in tier-2 bonds before DBS' takeover, as recommended by the RBI.
One day before the merger was to be finalised, the Bombay High Court in Mumbai rejected a plea from shareholder Indiabulls Housing Finance, a mortgage lender, and promoter Kare Electronics & Development – to stay the merger.
The duo challenged the scheme on the grounds that it would be detrimental to their shareholding in LVB. They also said that merger approval was given without the opportunity for stakeholders and the general public to raise objections.
In a court order, a division bench consisting of Justices Nitin Jamdar and Milind Jadhav refused to stay the merger but said it would admit their claim for monetary compensation, setting a hearing for 14 December.
The RBI enlisted AZB & Partners as counsel, led by partner Bahram Vakil alongside counsel Vivek Shetty. Parinam Law Associates, led by partner Paras Parekh, advised Indiabulls Housing Finance while Trilegal partner Shruti Rajan is advising Kare Electronics & Development.
Meanwhile, wealth management firm AUM Capital Market filed a separate petition at the Madras High Court in Chennai on the same day. It claimed the merger scheme violated India's Banking Regulation Act, which requires the RBI to take into consideration all the stakeholders of the bank that is being merged.
A division bench of Justices Vineet Kothari and MS Ramesh said it would not grant a blanket interim order as the scheme had "already come to operation," but warned that DBS should take "no prejudicial action" against the LVB shareholders without the court's permission.
They also ordered DBS to undertake that it would provide cash compensation to the LVB shareholders if it was ordered to, telling the bank it should maintain a reserve fund equal to the shares' face value "until further orders".
The merger has faced opposition from bank employee unions. "The government must preserve the essence of an Indian bank and give it to a national lender instead of handing it over to a foreign bank," said CH Venkatachalam, the union's general secretary of the All India Bank Employees' Association, wrote in a 20 November letter addressed to RBI governor Shaktikanta Das.
"It is pertinent to note here that in the past three decades, failed private banks have always been amalgamated with public sector banks," Venkatachalam wrote, citing Yes Bank – another Indian bank whose rescue the RBI has orchestrated this year – along with earlier examples such as Global Trust Bank and Nedungadi, which both underwent RBI-directed rescue mergers in the 2000s.
"RBI owes this explanation to the people of the entire nation," it added.
In a recent interview with a local news outlet, LVB promoter KR Pradeep claimed that DBS wanted to purchase a 50% stake in LVB in 2018 and offered ₹100 per share, but ultimately lost interest due to stake dilution regulations that apply to all private bank promoters in India.
"So, they wanted to acquire the bank for at least ₹100 per share at one point. And now, the entire bank has been handed over by the RBI to DBS at free-of-cost," Pradeep said.
LVB, founded in Chennai in 1926, had over 560 branches across India, while DBS has a considerably smaller presence with some 30 branches.
Counsel to the Reserve Bank of India
AZB & Partners
Partner Bahram Vakil with counsel Vivek Shetty
Counsel to Indiabulls Housing Finance
Parinam Law Associates
Partner Paras Parekh with associates Ashish Venugopal, Ankita Roy and Yash Bajaj
Counsel to Kare Electronics & Development
Trilegal
---
Copyright © Law Business ResearchCompany Number: 03281866 VAT: GB 160 7529 10