ECB guidelines "facilitating" Spanish bank M&A as Unicaja and Liberbank merge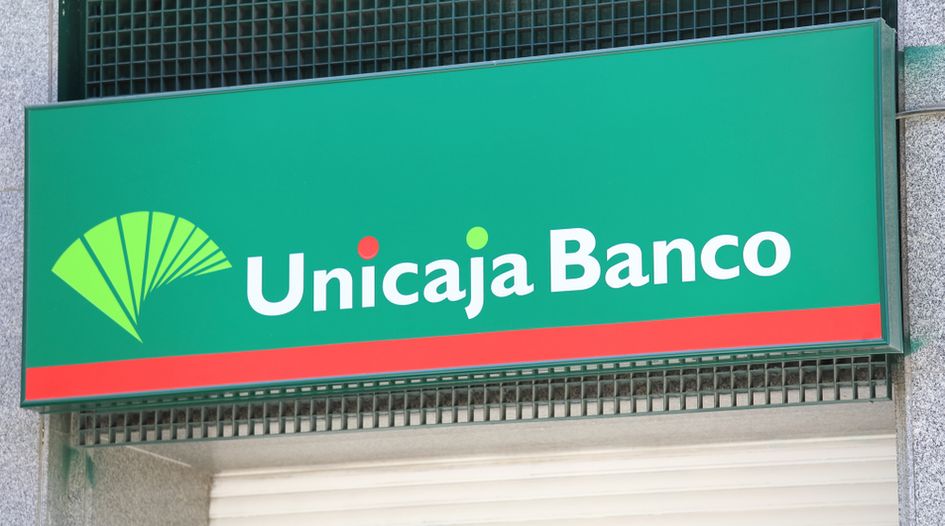 Portugal's Novo Banco has divested its Spain-based businesses, while Spanish lenders Unicaja and Liberbank have won shareholder approval for their merger.
Unicaja announced the approval on 31 March at an extraordinary shareholders meeting.  
The all-share merger will see Unicaja absorb Liberbank at an exchange ratio of 2.7705 Liberbank shares for one Unicaja share, in what will create the country's fifth-biggest bank with €110 billion in assets.
Unicaja will assume a 59.5% stake in the new entity, while Liberbank will hold the remainder. The combined bank, which will be known as Unicaja Banco, is expected to make roughly €192 million in annual cost savings and achieve a Common Equity Tier 1 (CET1) ratio of 12.4%.
The Málaga-based Unicaja retained Uría Menéndez as legal counsel, Mediobanca as financial advisers and PricewaterhouseCoopers as the auditor to undertake due diligence. Ramón y Cajal has been reported in Reuters as counsel to Liberbank, but GBRR has not received confirmation from the firm of its role.
The merger still awaits approval from the Bank of Spain, Ministry of Economy and the country's competition watchdog.
Unicaja was formed in 1991 from the amalgamation of five Andalusian savings banks; those of Almería, Antequera, Cádiz, Málaga and Ronda. Liberbank was established in 2011,and offers both retail and business banking services.
Unicaja chairman Manuel Azuaga will become executive chairman of the combined entity, while Liberbank CEO Manuel Menéndez will retain his role.
Azuaga said the rationale for the merger was a "persistence of ultra-low interest rates, an intense advance in digitisation in a short space of time, increasing regulatory requirements and a consolidation process within the Spanish financial system".
The two banks attempted to merge in 2019, before talks derailed after the duo failed to reach agreement on a share swap.
More recently, Caixabank and Bankia merged last September to create Spain's largest domestic lender, a move that brought the number of domestic lenders down to 11, a fifth of the number that were operating after the 2008 financial crisis. Fellow domestic lenders BBVA and Sabadell have also been engaged in merger talks, but ended negotiations in December after failing to agree on a price.
The European Central Bank (ECB) finalised its guidance to facilitate bank consolidation in January, with many banks facing an increase in non-performing loans and low interest rates brought about by the coronavirus pandemic.
Bank of Spain governor Pablo Hernández de Cos expressed his encouragement for bank mergers in October, saying there was "still room" for more consolidation in the country's financial sector.
In a recent interview with The Irish Independent, European Banking Authority chief José Manuel Campa also expressed his support for consolidation across the EU. "If a case is put forward that makes sense from a business point of view, that is more sustainable and less risky, it should be allowed to go forward. I would even go further: it should be encouraged to go forward because it fosters competition and we need to make sure there are no barriers to prevent it from happening."
Uría Menéndez counsel Carolina Albuerne says that ECB guidelines have "facilitated" recent Spanish bank consolidation efforts by providing necessary clarity on capital measures.
The ECB confirmed it would not set higher Pillar 2 capital requirements on merged entities, saying this would penalise credible integration plans. It also allowed for the recognition of badwill, something that Albuerne says "considering the current bank valuation, is likely to arise in these transactions".
"In the past, banks may have been careful in undertaking these transactions, since the regulator had been demanding capital increases, mainly to fund the restructuring costs of the merger. Now this risk seems no longer relevant," she tells GBRR.
Partner María Vidal-Pardo says that the rationale behind the mergers could also be for banks to meet high regulatory costs, such as those for mandatory contributions to resolution funds and meeting MREL requirements.
Earlier this year the Single Resolution Board gave banks binding intermediate targets to be met by 1 January 2022 and fully calibrated MREL final target to be met by 1 January 2024.
"Nevertheless, we do not think that the concentration process is related to seeking a higher size for the upcoming European cross-border merging process as some commentators may have hinted," Vidal-Pardo adds.
Novo Banco divests in Spain
Portuguese lender Novo Banco has exited Spain after selling its remaining operations in the country.
Novo Banco president António Ramalho said in a 5 April statement it had agreed to divest its retail, private banking and small and medium-sized enterprises (SME) operations in Spain to local lender Abanca.
The deal means Novo Banco's entire business operation is now concentrated in Portugal, completing its strategy of divesting non-core operations and focusing on its domestic business. The bank has already sold off its international assets in Cape Verde, France and across Asia.
It is also expected to increase the bank's CET1 ratio by 55 basis points.
Novo Banco retained Spanish firm Cuatrecasas for the sale, with partners Fernando Minguez and Paulo Costa Martins leading the transaction, which is expected to close in the second half of 2021.
The Lisbon-based bank, which is a product of the Portuguese state's rescue of Banco Espírito Santo in 2014, booked €166 million for potential losses for the sale, which was launched in May 2020.
Novo Banco is majority owned by private equity group Lone Star, with the bank's designated Resolution Fund also holding a 25% stake. It recently asked the Resolution Fund, which is responsible for cash injections at the bank, for €598 million to maintain capital ratios.
The Resolution Fund released a statement on 26 March, saying it is analysing €160 million worth of the total losses requested by Novo Banco.
In the Unicaja-Liberbank merger
Counsel to Unicaja
Partners  Salvador Sánchez-Terán and María Vidal-Pardo with counsel Carolina Albuerne in Madrid
Financial advisers to Unicaja
Auditors
In the sale of Novo Banco's assets to Abanca
Counsel to Novo Banco
Partner Fernando Minguez with associate Carlota Tojo in Madrid, and partner Paulo Costa Martins in Lisbon
---
Copyright © Law Business ResearchCompany Number: 03281866 VAT: GB 160 7529 10