Santander targets total ownership of Mexican unit, with Cleary advising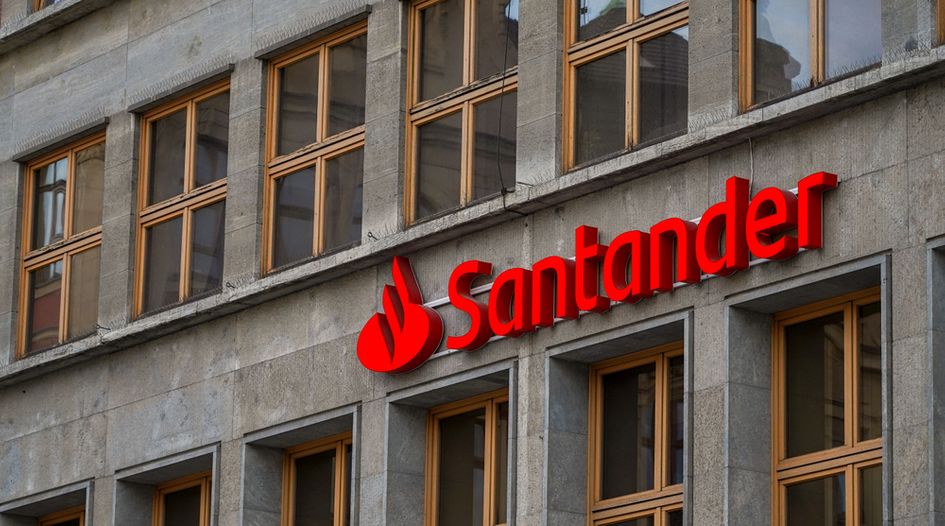 Spain's Banco Santander is launching a bid to reacquire the remaining stake in the Mexican unit it sold almost a decade ago.
The bank announced on 26 March that it would launch an offer to buy the remaining 8.3% stake in Santander México for a sum of €550 million (US$648 million).
Cleary Gottlieb Steen & Hamilton is advising Santander México on the offer, led by partner Jorge Juantorena.
Santander is offering 24 Mexican pesos (US$1.17) for every Santander México share, representing a 24% premium on the closing market price on 25 March. It will also offer US$5.80 for each American Depositary Share (ADS), the bank's New York-listed securities.
The transaction would reduce Santander's Common Equity Tier 1 (CET1) ratio by around eight basis points. As of December, the group had a CET1 ratio of 12.34%, just above its target of 11-12%.
In its statement, Santander said the acquisition was "consistent with the bank's strategy to deploy capital in high growth markets" and that Mexico is a "core market for the group with attractive long-term fundamentals".
Santander's executive chair Ana Botín wrote in a tweet on 26 March that the bank "believes in Mexico, in the potential of its financial sector and of Santander México, which today is one of the leading banks in the country".
The move marks a stark contrast to Santander's strategy in Mexico under former chair Emilio Botín, Ana's father. The bank sold off 25% of its Mexican unit in a US$4 billion initial public offering in 2012, part of a regionwide strategy of listing its larger subsidiaries locally to achieve growth.
But under Ana's leadership, Santander increased its ownership in its Mexican affiliate in September 2019, launching a €1.7 billion stock exchange offer that upped its stake from 74.96% to its current 91.65%. Santander used Davis Polk & Wardwell, Uría Menéndez in Madrid and Mexico's Creel García-Cuéllar Aiza y Enriquez for that transaction.
Santander's current share offer would delist Santander México from both the Mexico and New York stock exchanges.
It would also require approval from Mexico's banking regulator, Comisión Nacional Bancaria y de Valores (CNBV), which GBRR reported last August to be "overwhelmed" due to understaffing.
The regulator's manpower issues stemmed from sweeping wage cuts ordered by Mexican president Andrés Manuel López-Obrador in 2018 as part of an austerity push, prompting an exodus of officials and "senior technocrats".
The following year, Mexico's legislature enacted laws banning public servants from moving into private-sector jobs in their relevant industries for a period of 10 years after vacating their role, which only sped up the departures from the regulator.
The CNBV came under fire in June for allowing domestic lender Banco Famsa to collapse, which invited criticisms that it was not keeping up with developments in the financial industry.
At the time, Mexican newspaper El Universal blamed Famsa's failure on a "flagrant lack of supervision" from the CNBV, which questioned the regulator's ability to properly regulate Mexico's financial institutions.
The CNBV issued a non-binding recommendation in April 2020 for banks to suspend usual dividend payments for the rest of that year, a measure intended to help ease the difficulties created by the covid-19 pandemic. Santander said it intends to return to its dividend payout ratio of between 40% and 50% of ordinary earnings as soon as the CNBV permits.
Santander hires German central banker
In the same statement, Santander also announced the appointment of Andreas Dombret to its international advisory board.
Dombret served as a board member for eight years at Deutsche Bundesbank, Germany's central bank, leaving in 2018 to take on a portfolio of advisory mandates. These include at US consultant Oliver Wyman, Sumitomo Mitsui Banking Corporation and London-based equity research firm Autonomous.
Prior to his time at Deutsche Bundesbank, Dombret had a four-year spell as a member of the European Central Bank's supervisory board, was vice chairman of European investment banking at Bank of America, and held several senior positions at Rothschild & Co, JP Morgan and Deutsche Bank.
Dombret, who holds both German and US citizenship, is also a lecturer at Columbia University, and has been honorary professor for investment banking and capital markets at the European Business School in Oestrich-Winkel.
Counsel to Santander México
Cleary Gottlieb Steen & Hamilton
Partner Jorge Juantorena with associate Eric Finkelberg in New York
---
Copyright © Law Business ResearchCompany Number: 03281866 VAT: GB 160 7529 10