Community round-up: New central bank chief in Ukraine; board changes at BoE and DFSA; Schellenberg Wittmer hire academic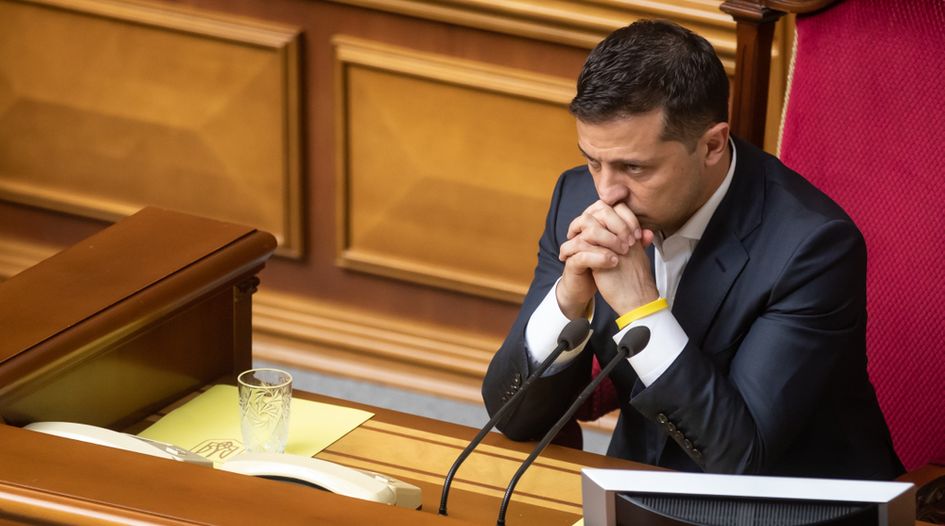 Ukraine's central bank has appointed a new governor after its previous head resigned over "systematic political pressure"; regulators in the UK and Dubai have announced board changes; and Swiss firm Schellenberg Wittmer has hired an of counsel in Geneva.
Kyrylo Shevchenko assumed his role as governor of the National Bank of Ukraine (NBU) on 20 July, after Parliament confirmed his appointment in a plenary session on 16 July.
Shevchenko joins from state-owned Ukrgasbank, where he had held the role of CEO since 2015. He also worked at the State Saving Bank of Ukraine as an advisor to the chairman's secretariat, and had an 11-year spell at the now-defunct Finance and Credit bank that ended in 2006.
He replaces Yakiv Smolii, who announced his resignation in a tweet on 1 July, blaming "systematic political pressure that denied fulfilment of my duties as the Governor," he wrote.
His resignation comes just over a month after Ukraine adopted a new banking law, preventing the return of insolvent banks to their previous owners, which was a requirement for a loan package from the International Monetary Fund (IMF).
The law was dubbed the "anti-Kolomoisky bill" as it would prevent oligarch Ihor Kolomoisky regaining control of Ukrainian financial institution Privatbank, which was nationalised in 2016 following what regulators described as fraudulent lending practices.
Smolii was appointed in March 2018, succeeding the architect of Privatbank's nationalisation, Valeria Gontareva.
Smolii told Ukrainian parliament on 3 July that the NBU had been pressurised to make several decisions that were "economically unsound, that focus on short-term, easy 'victories,' and that could take a tremendous toll on the Ukrainian economy and people in the long run."
While he stopped short of implying that the NBU had lost its independence, Smolii said his resignation came as a protest. "It is a signal and a warning that a red line is about to be crossed. As I step down as governor, I seek to warn politicians against further attempts to undermine the institutional foundations of the Ukrainian central bank," he said.
He also served as an adviser to then-prime minister Yulia Tymoshenko in 2009.
Shevchenko beat out candidates including the head of the central bank's supervisory council, Bohdan Danylshyn.
IMF managing director Kristalina Georgieva said she had recently spoken to Ukraine's president Volodymyr Zelenskyy about concerns over pressure being put on the NBU.
"It is in the interest of Ukraine to preserve the independence of NBU and it is also a requirement under the current IMF-supported program," she said.  "I urged President Zelenskyy to stay the course of sound monetary and financial policies – those are key to stronger investment and inclusive growth."
DFSA reshuffles board
The Dubai Financial Services Authority (DFSA) announced a shake-up of its board on 12 July, appointing two new members.
Fadel Abdulbaqi Al Ali will take on the role of deputy chairman. He is currently chairman of Dubai-based asset manager SHUAA Capital, and serves as deputy CEO at First Abu Dhabi Bank.
German jurist Sabine Lautenschläger, who previously served as a member of the executive board of the European Central Bank, also joined the DFSA board.
She brings experience as vice-president of the German central bank, and from her stint as a member on the Basel Committee on Banking Supervision between 2008 and 2014.
Chairman Saeb Eigner was re-elected for another term, marking his 10th year in the position.
"The decision by Dubai's leadership to bring in the best people from a variety of international geographies is typically far-sighted," Eigner said.
"I am pleased to welcome Fadel, a seasoned commercial member, in his new capacity as deputy chairman, as well as Sabine, a new member who brings excellent experience at very senior level in the European regulatory sphere."
BNY Mellon hires BoE director
BNY Mellon's investment management arm has hired Bank of England non-executive director Hanneke Smits as its new chief executive officer.
Smits, currently chief executive at London-based BNY Mellon subsidiary Newton, will depart from her role on the bank's Court of Directors on 30 September, the day before she begins as chief executive officer of BNY Mellon Investment Management.
She currently sits on the BoE's audit and risk committee.
Chair of Court Bradley Fried said that Hanneke had been an outstanding member. "[She brought] much expertise and a lively interest to bear on our work at the Bank. Court congratulates her on her appointment but is sorry that it means that she has to leave the Bank," he commented.
Smits will report to Todd Gibbons, BNY Mellon's chief executive. "We are delighted to elevate Hanneke into the CEO role for Investment Management. She has spearheaded Newton's business momentum and client-centric culture, and we look forward to her leadership within Investment Management," Gibbons said.
She takes over from current CEO Mitchell Harris, who is set to retire on 1 October.
Schellenberg Wittmer adds firepower
Swiss firm Schellenberg Wittmer unveiled its new hire Luc Thévenoz on 1 July. He joins as of counsel in its banking and finance practice in Geneva.
Thévenoz, who was a full-time professor at the University of Geneva prior to taking on his new role, is also director of its Centre for Banking and Finance Law.
He was president of the Swiss Takeover Board between 2008 and 2015, had a six-year spell as a commissioner at the Swiss Federal Banking Commission and was a member of the International Arbitral Tribunal for Dormant Accounts in Switzerland from 1997 to 2001.
"Luc has built an eminent career, and his groundbreaking expertise, especially within the forefront of legal academia will only continue to expand [our] capabilities to advise in the most complex of matters," said Philippe Bärtsch, the firm's managing partner.
Thévenoz has also been involved in several legislative and regulatory projects, namely as the main Swiss negotiator for the Geneva Securities Convention, as well as a sitting on the drafting committee and helping to edit the official commentary.
---
Copyright © Law Business ResearchCompany Number: 03281866 VAT: GB 160 7529 10