ECB tells banks to show their working in climate-related disclosures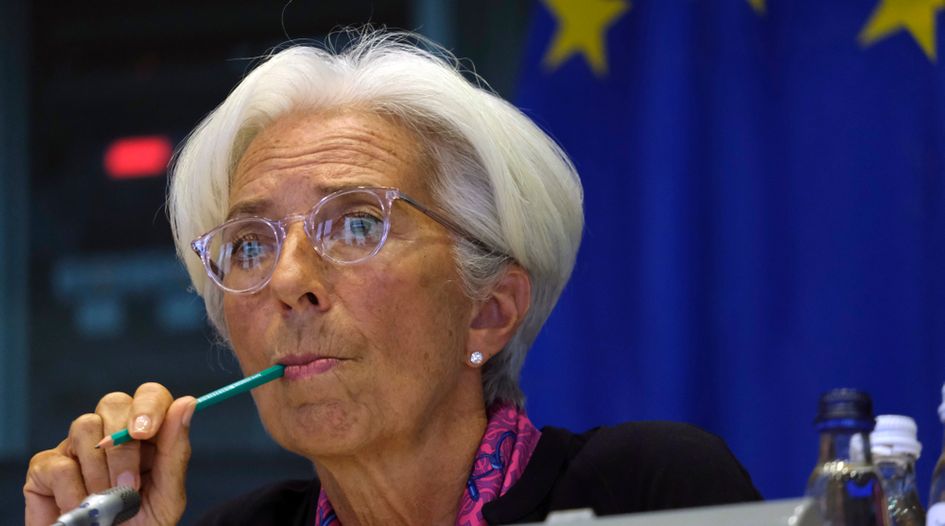 Banks should publish the research that informs their climate-related and environmental risk assessments, the European Central Bank has said.
The ECB proposed this alongside several other guidelines in a new consultation paper released on 20 May.
Lenders could be expected to specify in their public disclosures the "key considerations" that inform their assessment of the materiality of climate-related and environmental risks, as well as the frequency and means of said disclosures.
But if a financial institution deems climate risks to be immaterial, it should back up its claims with the qualitative and quantitative information underpinning its judgement, the ECB says.
Recent analysis involving the 12 largest banks in the Eurozone shows that, although the majority disclose the impact of their business travel, commuting and other energy usage, only two disclosed the impact of their financial assets, and neither of these provide full disclosure.
ECB chief Christine Lagarde says the majority of these banks' exposure to climate-related risk is "likely to stem from their financial activities".
The ECB also warned in the guide that banks perceived as taking little consideration of climate issues could face business continuity problems from changing market sentiment in relation to environmental risks. "Reputational risks can arise quickly and can rapidly affect firms," the report said.
The ECB also says that bank management bodies should explicitly allocate roles and responsibilities to individuals or sub-committees for climate and environmental risk matters.
UK banks could find themselves a step ahead in this department, owing to the Senior Managers and Certification Regime (SMCR) framework published in 2015 that sets out to clarify internal responsibilities at financial services firms, according to Baker McKenzie's Caitlin McErlane.
"In theory, UK banks will be able to adapt their SMCR implementation procedures to help them comply with the ECB guidelines," she says.
The banking industry and other stakeholders can submit comments on the consultation paper until 25 September, and the rules could come into force at the end of this year.
BNP Paribas, which has attempted to demonstrate its climate awareness, was the first major bank to set an official coal exit date last November.
It announced on 11 May it had expanded its 2030 target to include all OECD countries, in addition to all EU states.
"Beyond coal and unconventional hydrocarbons, we are putting in place innovative tools that will enable us to systematically introduce environmental criteria into our lending decisions and align our portfolio with the objectives of the Paris Agreement'" said Jean-Laurent Bonnafé, director of the BNP Paribas Group.
The European Union's institutions have recently come under fire from different quarters in the environmental, social and governance (ESG) regulatory space.
In early May, the European Supervisory Authorities drew the ire of investors, politicians and campaigners when they excluded oil and gas from the definition of fossil fuels in joint draft proposals for a sustainable disclosure scheme aimed at companies.
The European Commission also faced criticism in April for selecting asset manager BlackRock, a significant investor in oil companies and banks, to advise on the incorporation of ESG factors into European banking regulations.
Over 30 members of the European Parliament (MEPs), led by French politician Damien Carême, outlined several concerns over conflicts of interest in a joint letter to the commission on 17 April.
On 16 May, European Commission vice president Valdis Dombrovskis confirmed to Carême that the body was still preparing a formal response.
---
Copyright © Law Business ResearchCompany Number: 03281866 VAT: GB 160 7529 10