EU eases leverage ratio in covid-19 relief package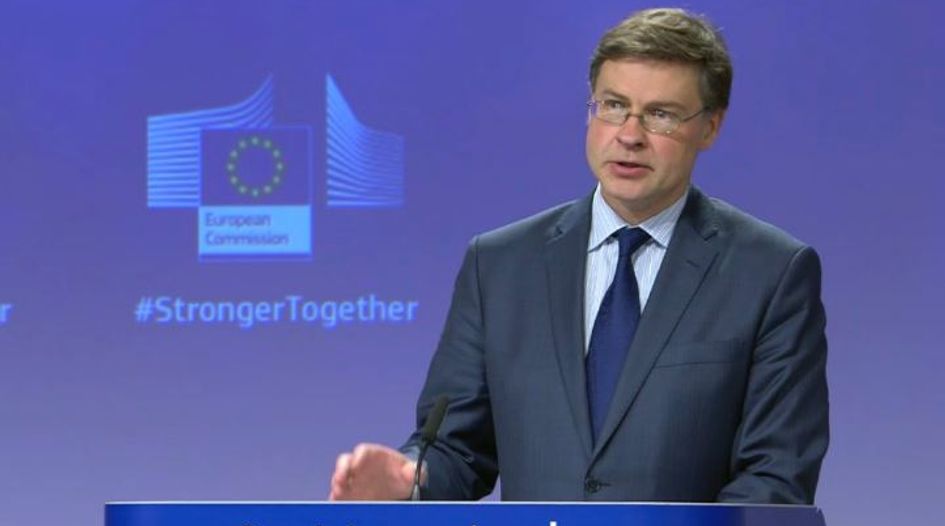 The European Commission has announced a package of proposed regulatory changes aimed at facilitating bank lending – including an adjustment to leverage ratio rules that had been a focus of bank lobbying following a similar switch by the US Federal Reserve.
European Commissioner for financial services Valdis Dombrovskis announced the package on 28 April, following the European Council's agreement last week on a €3.4 trillion stimulus initiative.
The banking package includes an "interpretative communication" clarifying how banks and supervisors should interpret prudential and accounting rules and a set of proposals for what the Commission terms "quick fix" amendments to the Capital Requirements Regulation (CRR).
The CRR amendments loosen leverage ratio rules, excluding exposures in the form of central bank reserves, which it said "would be too restrictive" in their current form and discourage banks from drawing on central bank liquidity facilities. It also delays by a year the deadline for the introduction of a new leverage ratio buffer introduced by CRR II.
The leverage ratio adjustments come three weeks after the US Federal Reserve made a similar concession to US banks with assets of more than US$250 billion. However the European Commission, unlike the Fed, has not excluded government bond exposures from leverage ratio calculations.
The European Banking Federation (EBF), an industry body which has been calling on the European Commission to follow the Fed's lead in easing the leverage ratio rules, gave a guarded welcome to the proposals.
"Today's proposal goes a long way towards safeguarding the European economy, although further stimulus actions could have been considered beyond those announced," its CEO Wim Mijs said. "That said, the overall EU support package of €3.4 trillion – equivalent to one quarter of EU GDP – is truly unprecedented."
The CRR amendments also postpone timelines for banks to apply international accounting standards on their capital, but bring forward the dates at which banks are intended to apply measures to incentivise financing for small businesses and infrastructure projects.
The amendments also introduce more favourable treatment of some software assets and of some pension and salary-backed loans.
In its interpretative communication, the Commission instructs banks to "use the capital and liquidity that have been liberated to channel funds" to businesses and households affected by the coronavirus pandemic.
It tells banks to "fully use judgment and flexibility" in applying International Financial Reporting Standard 9 (IRFS 9), noting concerns that applying the standard's expected credit loss approach would result in a "sudden and significant increase" in banks' credit loss provisions, which would in turn reduce their lending capacity.
It also advises banks on how to adjust their calculations of significant increases in credit risk (SICR). It said SICR should be based on a financial asset's remaining lifetime, asserting that sudden coronavirus-related increases in businesses' probability of default should not usually count towards this.
The Commission said banks should not "mechanically" apply accounting rules for setting aside capital for expected losses, and they need not automatically account for a significant rise in credit risk simply because loans are subject to moratoria. Banks will also not have to automatically consider borrowers in default when they call on a guarantee.
It also backed European Central Bank and European Banking Authority instructions that banks should not pay dividends or bonuses until the crisis has passed.
Goldman Sachs International chairman José Manuel Barroso, himself a former president of the European Commission, said the package was "a step in the right direction, but let's be frank – a lot remains to be done".
The package comes after the European Parliament and Council issued resolutions on 17 April calling on the banking sector to take a "proactive role" in responding to the coronavirus crisis.
The CRR amendments will have to be approved by the Parliament and Council in June before taking effect. In a news conference announcing the package, Dombrovskis called on the two bodies to adopt the proposals as a "matter of urgency".
"During the last crisis we had to prop up banks, this time we are helping banks to prop up households and companies," Dombrovskis said at a news conference announcing the measures.
---
Copyright © Law Business ResearchCompany Number: 03281866 VAT: GB 160 7529 10