Facebook's Diem makes a leap for the US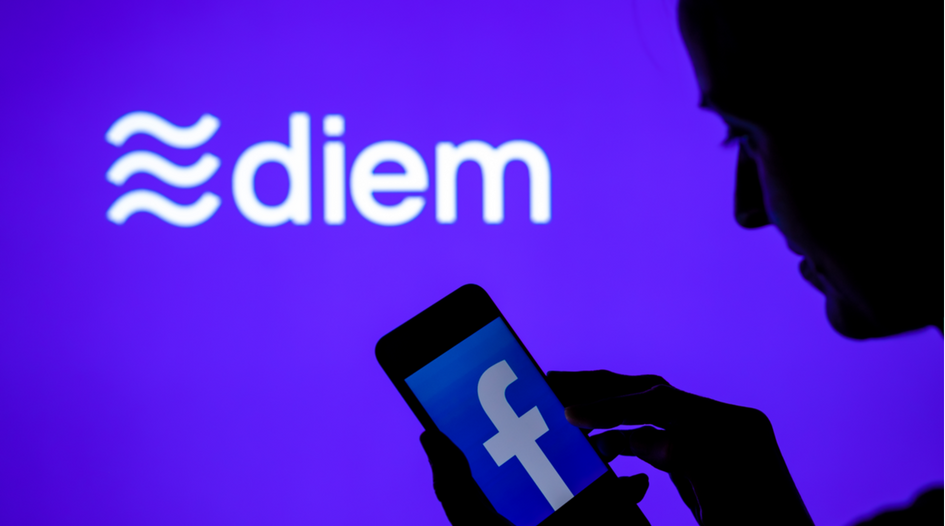 Facebook-backed digital currency project Diem – formerly Libra – has withdrawn its payment system licence application in Switzerland, instead announcing a shift to the United States alongside a partnership with crypto-friendly bank Silvergate.
Diem announced the move on 12 May, saying it would shift the main operations of its blockchain-based payment system to the US.
Formerly the Libra Association until a December name change, Diem had submitted an application for authorisation of its stablecoin as a payment system under Switzerland's Financial Market Infrastructure Act (FMIA) in April last year.
The Swiss Financial Market Supervisory Authority (FINMA) said that Diem's application had already achieved an "advanced stage". The regulator said Diem had withdrawn the application in order to focus on the USA as its target market.
The project now wholly bases itself on the US dollar, after having originally planned to base itself on a so-called "basket" of five currencies.
Diem Networks US, the project's wholly-owned subsidiary, will register as a money services business with the US Treasury's Financial Crimes Enforcement Network (FinCEN).
A statement from Diem said, "This shift is consistent with Diem's initial strategic focus on the United States and reflects Diem's consideration of the evolving digital currency regulatory environment in the US".
Skadden Arps Slate Meagher & Flom acted as Libra's international counsel last year, advising on regulatory aspects of the cryptocurrency development.
Jai Massari, partner at Davis Polk's Washington office, also worked on the Libra project. In her profile for GBRR's 45 under 45 project in November she called working on the Libra project a "unique assignment with an incredibly ambitious goal". She added the opportunity implicated many regulatory areas and had helped expand her horizons.
Representatives from Skadden and Davis Polk were unable to confirm continuing involvement with the project.
Credit Suisse's ex-global head of regulatory affairs Saumya Bhavsar became general counsel for Libra Networks in November 2020, succeeding former FinCEN director Robert Werner after he had spent only three months in the post.
The shift to the US is just the latest change in strategy Diem has undertaken since the project first began in 2018.
Last year Libra scaled back its original plans for a coin based on the five-currency basket after it received significant pushback from regulators. US lawmakers worried that the new currency would compete with the dollar, and payment giants Visa, Mastercard, Stripe and PayPal all withdrew support for the cryptocurrency venture over concerns that regulators would not be satisfied.
Libra announced changes to the original project, which it said had departed from blockchain norms, in April 2020 as it applied for FINMA approval as a payment system.
It said in a white paper that the project would now offer single-currency stablecoins as well as multi-currency ones. It also dropped plans for a permissionless system, and said it would work on a compliance framework and incorporate "strong protections" into the system's design.
Under its new plans, Diem has also named California bank Silvergate as the exclusive issuer of its US dollar stablecoin.
Silvergate, a US$7 billion asset bank, has run an exchange network since 2017 that allows clients to make dollar-to-digital-currency exchanges. Last year it said it had achieved over US$100 billion in transfer volumes since it had launched the network.
"We believe in the future of US dollar backed stablecoins and their potential to transform existing payment systems," said the bank's CEO Alan Lane, who oversaw the bank's pivot to the crypto space in 2013.
"We're inspired by Diem's technology and commitment to building a regulatory compliant payment system that offers a safe and secure way to move money," he added. "We're excited to be at a place in the process where we can announce this product with confidence and look forward to continuing our work with Diem to bring this to market."
Silvergate's clients include Coinbase, the online cryptocurrency broker that went public in April at an initial valuation of almost $100 billion.
Stuart Levey, chief executive officer of Diem, said the project's abortive Swiss experience had been helpful nonetheless.
"While our plans take the project fully within the US regulatory perimeter and no longer require a licence from FINMA, the project has benefited greatly from the intensive licensing process in Switzerland and the constructive feedback from FINMA and more than two dozen other regulatory authorities from around the world convened by FINMA to consider the project."
---
Copyright © Law Business ResearchCompany Number: 03281866 VAT: GB 160 7529 10