Biden taps Gensler to lead financial regulation transition team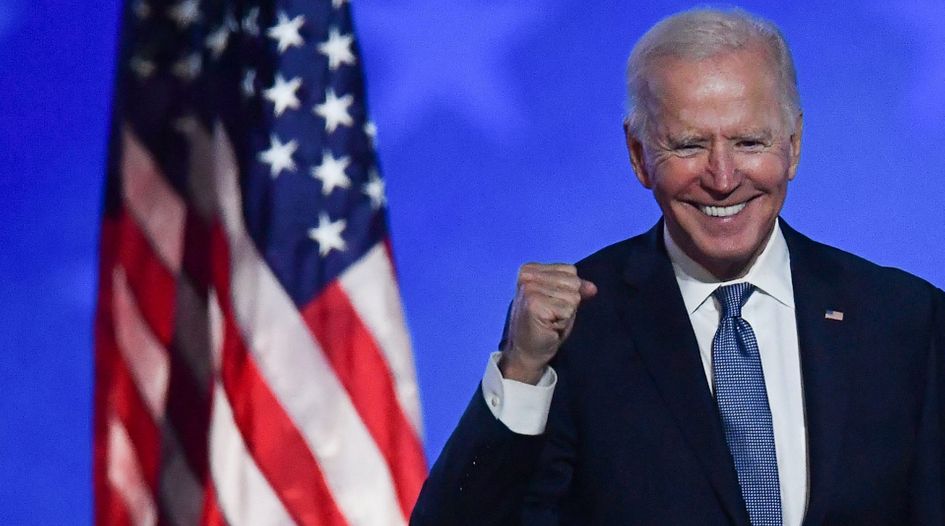 US president-elect Joe Biden has named former CFTC chair Gary Gensler to head up a task force charged with organising the handover of power at the United States' financial regulatory agencies – with figures specialising in fintech and corporate governance among the new team members.
On 10 November Biden's transition website listed Gensler alongside other names from the financial regulatory world on agency review teams (ARTs) tasked with ensuring a "smooth transfer of power" when Biden takes office in January.
Gensler's 14-member ART – one of over three dozen covering different areas of the US executive branch – is tasked with overseeing the takeover of the Federal Reserve, Commodities Futures Trading Commission (CFTC), Federal Deposit Insurance Corporation (FDIC), National Credit Union Administration, and Securities and Exchange Commission (SEC).
It is Gensler's latest public service appointment in a 23-year public career, which began in 1997 when he left Goldman Sachs to join Bill Clinton's administration as assistant secretary for financial institutions at the US Treasury. After Clinton left office, he worked on the Sarbanes-Oxley accounting standards reforms in the wake of the Enron collapse.
Gensler led the CFTC for the first five years of Barack Obama's presidency, restructuring the agency and implementing Dodd-Frank's rules on swaps markets. Later in his tenure he pursued the agency's enforcement efforts against rigging of the London Interbank Offered Rate (Libor), and has since argued for the benchmark's replacement.
His team includes academics Satyam Khanna of New York University and Reena Aggarwal of Georgetown, who both specialise in corporate governance. Khanna is an alumnus of the SEC, where he was counsel to commissioner Robert Jackson, and previously advised the Treasury department's Financial Stability Oversight Council. Aggarwal, who has been a professor at Georgetown since 1986, also specialises in fintech, blockchain and environmental and social governance (ESG).
Another member of the team is Columbia professor Lev Menand, who recently co-authored a proposal for the Fed to issue a digital dollar. He worked at the US Treasury under the Obama administration, advising on financial regulatory reform, cybersecurity and financial inclusion. After leaving the Treasury in 2016 he worked on the Fed's governance and culture reform initiative, helping to develop economic models for its first comprehensive capital assessment and review.
Gensler's panel also includes Andy Green, currently managing director of the Center for American Progress, a left-leaning think tank. Green was lead staffer working on the Merkley-Levin amendment to Dodd-Frank in 2010, which added the Volcker Rule into law. He later joined the SEC as counsel to commissioner Kara Stein.
Treasury team
Another of the ARTs, tasked with organising the takeover of the US Treasury, includes Simon Johnson, a professor at the Massachusetts Institute of Technology and former member of FDIC's Systemic Resolution Advisory Committee.
Johnson has been a prominent critic of too-big-to-fail and is a member of the Systemic Risk Council, an international private-sector group advocating for tighter regulation of global systemically-important banks. He is the co-author of 13 Bankers, an analysis of the 2008 financial crisis which advocated making banks "small enough to fail".
Arnold & Porter Kaye Scholer partner Charles Yi, a former FDIC general counsel who departed the regulator only last year and was responsible for establishing its legal division's fintech working group, is another member of the Treasury ART.
Yi's appointment came only a day after he contributed to an Arnold & Porter Kaye Scholer client alert predicting a "greater emphasis on oversight and investigations of financial institutions" under the incoming administration.
The Treasury ART also includes Georgetown academic Chris Brummer, who specialises in financial regulation, fintech and global governance. He is a former member of the Financial Industry Regulatory Authority's national adjudicatory council and serves on the CFTC's virtual currencies subcommittee.
He has recently written about the "near total exclusion of African Americans" from roles as senior policy staffers in financial regulatory agencies, in a September paper for the Brookings Institution.
The University of Michigan's Michael Barr, who served in the department under the Obama and Clinton administrations and currently advises the Bill and Melinda Gates Foundation on fintech issues, has also joined the Treasury ART.
"Full steam ahead" despite Trump non-concession
Biden began his presidential transition on 8 November, a day after media networks determined he had won enough states in the 3 November presidential election to win a majority of the electoral college. He is set to formally become president-elect when the college votes on 14 December.
Unlike their predecessors in previous transitions, Biden's ARTs will have to wait to begin liaising with their respective government agencies. Uniquely among the nine handovers to have taken place since the 1963 Presidential Transition Act, Biden's incoming administration has so far not received co-operation from the incumbent administration under outgoing president Donald Trump, who is yet to concede the election.
Government departments will only be able to co-operate with the transition once the General Services Administration – an independent government agency that manages and supports the basic functioning of federal agencies – ascertains the winner of the election, which it has so far declined to do.
Biden's team says the transition is proceeding "full steam ahead" regardless. ART members will meet with former agency officials, "experts who closely follow federal agencies", and representatives of think-tanks, trade associations and non-governmental organisations. It also indicated that the ART members' experience working within the agencies would allow them to continue preparations in advance of cooperation.
"We must be prepared for a seamless transfer of knowledge to the incoming administration to protect our interests at home and abroad," said the co-chair of Biden's transition team, former Delaware senator Ted Kaufman.
---
Copyright © Law Business ResearchCompany Number: 03281866 VAT: GB 160 7529 10