US Fed in a bind over "inexcusable" capital requirement relief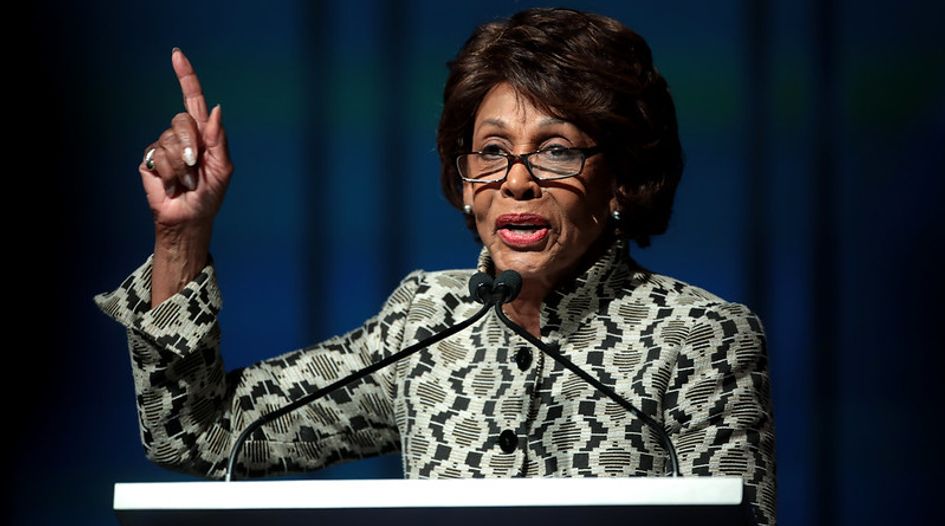 The United States' congressional committees covering financial services have urged the Federal Reserve to defy calls to extend temporary capital requirements relief it extended at the outset of the covid-19 pandemic.
In a 9 March letter, House financial services committee chair Maxine Waters  warned the Federal Reserve, Federal Deposit Insurance Corporation (FDIC) and Office of the Comptroller of the Currency (OCC) they should "not extend temporary exemptions or make any other reforms to weaken big bank capital and leverage requirements."
Waters said the Fed's decision to alter the supplementary leverage ratio (SLR) – the Basel III measure of a bank's Tier 1 capital relative to its total leverage exposure – was a "mistake that should not be perpetuated" after its expiry on 31 March.
The Federal Reserve announced that large banks could exclude US Treasuries (USTs) and Fed-held bank deposits from the SLR denominator in April last year, in an effort to help them free up excess capital for households and businesses affected by the covid-19 crisis. The move cut the capital demand on big banks by a combined US$72 billion.
For banks with greater than US$250 billion in assets, the minimum SLR is usually 3%, while the minimum SLR is 5% for global systemically important banks (G-SIBs).  
Waters warned the agencies to stop weakening bank requirements, including by allowing the temporary SLR relief to expire, saying they are necessary "to help ensure the resilience of our financial system through the remainder of this pandemic and economic recovery".
"With the path of the economy highly uncertain in the months ahead, it is crucial that regulators remain vigilant, requiring the largest banks to maintain loss-absorbing capital to guard against risks," Waters added.
She also cited the results of the Fed's December stress tests, "which showed that under certain adverse scenarios, some large banks would reach their regulatory minimums for capital."
Illustrating the delicate task that lies ahead for the Fed, JP Morgan CFO Jennifer Piepszak told the bank's fourth quarter earnings call in January that the measure should either be made permanent or "at a minimum" extended, saying the end of the SLR relief could force it to start turning away excessive deposit inflows.
"We don't want to do that," said the bank's CEO Jamie Dimon. "It's just very customer-unfriendly to say, 'Please take your deposits elsewhere'."
The Securities Industry and Financial Markets Association (Sifma) has also backed an extension of the relief. It argues the extension is "critical" to the financial stability of the markets, and warned that failure to order it would lead to an increase in Treasury rates that it said would ultimately bleed into the cost of credit for borrowers.
Fed chair Jerome Powell told a Senate Banking Committee hearing on 23 February the agency had not made a decision whether to extend the relief or not, but said the regulator will announce a decision "pretty soon."
The committee's chair, Democratic senator Sherrod Brown, directly urged Powell not to extend the relief for any banks that have continued to make capital distributions to shareholders "rather than invest in the real economy".
But the Fed chair declined to make that commitment.
"What you see now is a banking system that has higher capital than it did going into the pandemic, and particularly for the largest banks," Powell said. He insisted that large banks had "proved resilient" throughout the past year amid the economic turmoil, and that he expected that to continue.  
But in a 26 February joint letter co-authored with fellow Democrat Elizabeth Warren, Brown said banks requesting an extension of relief is "an attempt to use the pandemic as an excuse to weaken one of the most important post-crisis regulatory reforms".
The letter said that regulators should suspend bank capital distributions if there are concerns about banks' ability to accept customer deposits and absorb reserves due to leverage requirements.
"It is inexcusable to provide Wall Street with deregulatory capital exemptions while allowing them to pay out tens of billions in capital every quarter through dividends and stock buybacks," Warren and Brown's letter said. They recommended that the money used for capital distributions could instead be used to support "over a trillion dollars" in balance sheet growth.
"You and your predecessors at your independent regulatory agencies succumbed to political pressure to weaken these key reforms, creating new risks for the economy and the financial system. You now have the opportunity to rectify these errors and restore bank capital requirements, and you should do so," their letter concluded.
Waters also said it was "disappointing" to see US regulators permitting big banks to make capital distributions while advancing proposals that directly or indirectly weaken large bank capital requirements.
As well as the Fed, the FDIC and OCC are both still led by Trump appointees in Jelena McWilliams and acting chair Blake Paulson, respectively.
Recent reports in US media outlets have suggested that University of California Irvine professor Mehrsa Baradaran is topping the Biden administration's list for the OCC's top post, with former Treasury Department official Michael Barr and California state regulator Manny Alvarez also in the running.
Elsewhere, President Biden's nominee to lead the Securities and Exchange Commission (SEC) Gary Gensler cleared a significant hurdle yesterday, after Brown's committee voted 14-10 in favour of his nomination, which now goes to the Senate floor for confirmation.
There was less certainty for Rohit Chopra, who was tapped by Biden to head the Consumer Financial Protection Bureau (CFPB), as the committee voted 12-12 along partisan lines to progress his nomination. Under Senate rules, majority leader Chuck Schumer can still advance Chopra's nomination to the full Senate as long it votes on a motion to discharge it from the committee.
---
Copyright © Law Business ResearchCompany Number: 03281866 VAT: GB 160 7529 10