Biden Begins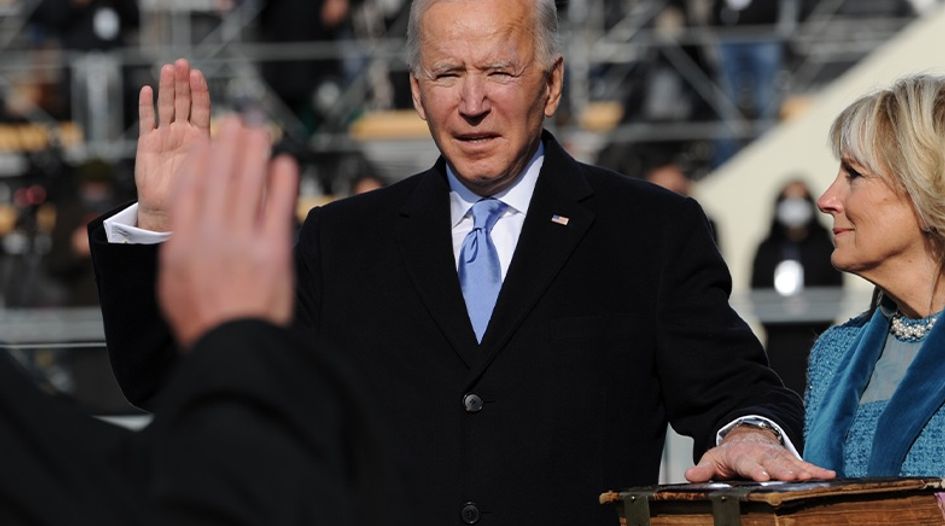 As Joe Biden becomes US president, incoming Treasury Secretary Janet Yellen has promised a dedicated climate risk hub, while Gary Gensler and Rohit Chopra have been tapped to lead the SEC and CFPB.
Joe Biden and Kamala Harris were sworn in as US president and vice president on 20 January at the US Capitol, following an unexpectedly tumultuous transition involving a violent riot in the same venue two weeks earlier.
The day before the inauguration, the US Senate held its confirmation hearing for Janet Yellen, Biden's nominee for treasury secretary. She told its finance committee she plans to establish a dedicated unit within her new department to assess climate-related risks to financial institutions.
Speaking from her home in a remote confirmation hearing, Yellen, a former chair of the Federal Reserve, said she would make an appointment "at a very senior level" to lead the hub, which would also consider tax policy incentives towards combating climate change.
Climate change "could have major impacts, creating stranded assets, generating large changes in asset prices, credit risks, and so forth, that could affect the financial system," she said. "I think we need to seriously look at assessing the risks to the financial system from climate change."
Yellen also expressed enthusiasm for new anti-money laundering powers given to her department in the National Defence Authorisation Act, passed by Congress on 1 January over former president Donald Trump's veto.
The reforms introduce new reporting requirements and oblige shell companies to provide information about their beneficial ownership to the US Financial Crimes Enforcement Network (FinCEN), a bureau of Yellen's soon-to-be department. Yellen said the law would make a "big, big difference in our ability to address terrorist financing."
Yellen committed to quickly setting up a database for that information, calling FinCEN's new powers "an enormously potent tool" to address money laundering. "We will try to get up and running as quickly as possible and devote ourselves to building that database so we can address these issues, and will certainly be looking to give this a very high priority."
She also said the emergence of cryptocurrencies was a "particular concern" for their potential use in terrorist financing. She said some cryptocurrencies were used "mainly" for illicit financing: "We really need to examine ways in which we can curtail their use and make sure that money laundering doesn't occur through those channels."
As detailed by GBRR shortly after the election, climate risk is expected to gain new prominence in the Biden-era regulatory agenda, with a planned White House executive office for climate change expected to have input into financial regulation and anticipated new disclosure and reporting requirements for banks.
The new administration is also likely to see some re-examination of recent rulemaking under the Trump administration, including the "fair access" rule finalised last week by the Office of the Comptroller of the Currency (OCC), which would require banks to consider only individual risk when making politically sensitive lending decisions.
The unexpected Democratic takeover of the US Senate following a special election in Georgia earlier this month also opens up the prospect for primary legislation in the area of financial regulation, with a Democratic takeover of the Senate's banking and finance committees. New legislation will likely include the Climate Change Financial Risk Act, which will require the Federal Reserve to develop and update multiple climate change risk scenarios in its stress tests.
The Senate banking committee's incoming chair Sherrod Brown has also committed to legislation that would bring the financial sector under the purview of the 1964 Civil Rights Act for purposes of access to financial services. Brown has also pledged legislation requiring the Fed to incorporate the elimination of disparities across racial and ethnic groups into its mandate.
Appointments and departures
The incoming administration added to its key appointments in the financial regulatory area on 18 January, naming former Commodities Futures Trading Commission (CFTC) chair Gary Gensler to head the Securities & Exchange Commission (SEC), and Federal Trade Commission member Rohit Chopra to lead the Consumer Financial Protection Bureau (CFPB).
Chopra has been involved in the CFPB since the early days of its formation under Dodd-Frank in the wake of the 2008 financial crisis, originally working on student debt issues. In 2018 then-president Donald Trump named him as one of the Federal Trade Commission (FTC)'s two Democratic members.
Although the CFPB's mandate is directed at the consumer end of banking, its remit has increasingly touched on matters of interest to the wholesale sector in recent years, particularly in the crypto area through its jurisdiction over some types of payments companies, including operators of digital wallets.
While on the FTC Chopra advocated tougher US government regulation of big tech, and singled out Facebook's cryptocurrency project Libra for criticism, saying it raised a "laundry list of risks" but also saying its existence should motivate the US Federal Reserve to move more quickly on its own real-time payments system.
Gensler, whose nomination was trailed in US media last week and covered more fully by GBRR in an earlier briefing, has spoken more warmly of Libra, which he recently said meets the criteria to be considered a security under US law, and of blockchain in general. Gensler taught a course on blockchain and fintech at the Massachusetts Institute of Technology (MIT) for several years, and has also testified on blockchain issues before Congress.
"These tireless public servants will be a key part of our agenda to build back better," Biden said. "I am confident they will help make meaningful change and move our country forward."
Kimberly Hamm, the chief counsel to the SEC chairman, announced her departure from the agency on 19 January. Hamm joined the SEC in April 2019 at the invitation of Gensler's predecessor Jay Clayton, after serving in the US House of Representatives' Office of General Counsel. She was earlier counsel at Simpson Thacher & Bartlett.
The SEC's acting chairman Elad Roisman praised Hamm's "unparalleled ability to bring people together across the Commission to facilitate important regulatory reforms through effective collaboration and decision-making".
Biden is still yet to nominate a new Comptroller of the Currency, a post currently held by acting comptroller Blake Paulson, the third occupant of the office in less than a year after his predecessor Brian Brooks announced his departure last week. The new president will also need to name a new chair for the CFTC, after Heath Tarbert announced his upcoming departure last month.
---
Copyright © Law Business ResearchCompany Number: 03281866 VAT: GB 160 7529 10