UN launches bank climate alliance as US Republicans decry regulators' "abuse of power"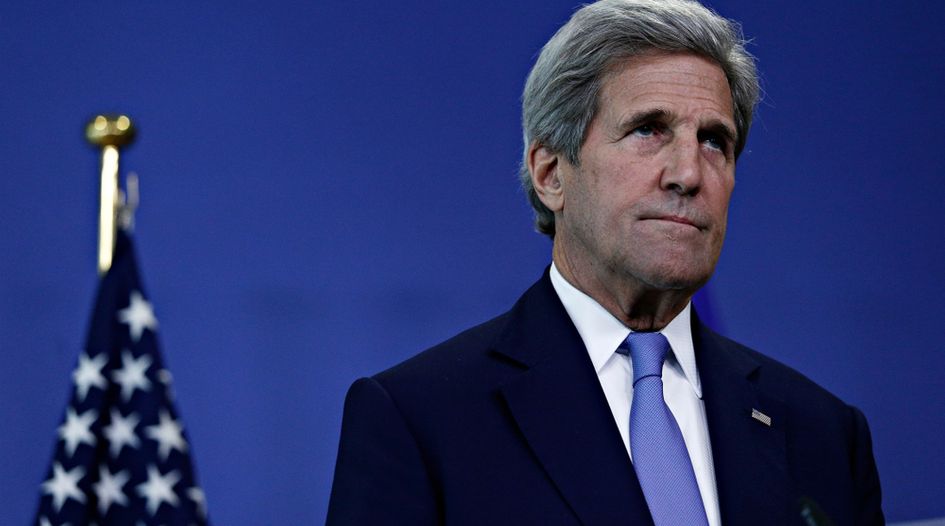 Over 40 of the world's largest banks have joined a United Nations-led pact to achieve carbon neutrality by 2050, as several Republican lawmakers call the Biden administration's push to put bank regulators at the forefront of the climate transition "political rhetoric masquerading as risk management".
The United Nations announced the Net Zero Banking Alliance, representing banks worth a combined US$28.5 trillion, on 21 April.
The alliance will operate under the newly-established Glasgow Financial Alliance for Net Zero (GFANZ), a sector-wide strategic forum that intends to bring together all existing and new net-zero finance initiatives ahead of the COP26 climate summit set to be held in Glasgow, United Kingdom, in November.
The banks, which include BNP Paribas, Deutsche Bank, Morgan Stanley and Société Générale, will be required to set targets for reducing their carbon assets by 2030 using "robust, science-based guidelines", with an aim of reaching net zero by 2050.
They are also required to publish both "absolute emissions" and "emissions intensity" information in line with best practice, and to disclose progress against a board-level reviewed transition strategy setting out proposed actions and climate-related sectoral policies within a year of setting targets.
Under the guidelines, banks are to also publicly disclose long-term and intermediate targets to support the Paris Agreement's temperature goals. They will also have to establish an emissions baseline and annually measure and report the emissions profile of their lending portfolios and investment activities.
 "The largest financial players in the world recognise energy transition represents a vast commercial opportunity as well as a planetary imperative," said US president Joe Biden's climate envoy John Kerry, at the launch of the alliance.
"As countries around the world move to decarbonise, the large sums these institutions are dedicating to climate finance also reflect a growing understanding of how critical a low-carbon global economy is to their business models," he added.
Earlier this month, in a seminar hosted by the International Monetary Fund, Kerry also promised a forthcoming executive order from Biden's desk that would impact on banks' disclosure obligations.
The Biden administration's prioritisation of climate issues has also been apparent elsewhere. Treasury secretary Janet Yellen called climate change an "existential threat" at a recent appearance at the Financial Stability Oversight Council and put it at the top of the group's agenda.
The Securities and Exchange Commission (SEC), now led by Gary Gensler, is also considering new climate risk disclosure rules for listed companies, while the Federal Reserve is looking more closely at financial institutions' exposure to climate-related risks.
In January, the Office of the Comptroller of the Currency (OCC) also put on hold a controversial "fair access" banking rule on hold pending a review by the new administration. Former Acting Comptroller of the agency Brian Brooks had finalised the rule, which was intended to prevent large banks from denying funding to socially undesirable companies such as those operating in the fossil fuels industry, just two weeks before.
At the time, Brooks said neither the OCC nor banks themselves were equipped to balance risks, such as climate change, not directly related to their financial exposures.
But US regulators' shift towards ensuring banks meet climate goals has met mounting pushback among opposition Republicans who have labelled it an "abuse of power".
In a letter published on 21 April, Kentucky congressman and Republican member on the House financial services committee Andy Barr told Kerry his actions "threaten to compromise the competitiveness of American financial institutions".
"Pressure on banks by public officials to cut off financing to fossil energy, or otherwise limit their ability to extend credit to American energy producers or traditional utilities, is political rhetoric masquerading as risk management," Barr wrote.
Barr also called climate change a "multi-decade phenomenon" and said that available data of its impact on the financial sector had gaps and was "plagued by a disqualifying level of subjectivity".
"These same methodological concerns apply to the Biden administration's heavy-handed efforts to incorporate climate change into financial supervision," he said.
Senate Banking Committee ranking member Pat Toomey, a former banker at Morgan Grenfell Group before he entered politics, also published a separate letter on 20 April, co-signed by all twelve Republicans on the committee.
In it, Toomey told Kerry that if the Biden administration wished to "ban or diminish" fossil energy production to achieve environmental policy outcomes, "it should not misuse financial regulators".
"Instead, it should come to Congress and seek to have the law amended. Until then, we strongly urge the Biden administration refrain from abusing government power — via executive order, regulatory or supervisory overreach, or informal pressure — to steer lending and investments away from lawful energy businesses."
Toomey said he was also "troubled by the Biden administration's efforts to "politicize oversight of financial disclosure, especially at the SEC".
Jeff Berman, a partner at Clifford Chance, says that if the Republicans win the Senate in the upcoming 2022 election, it could see Biden "run even harder" in the direction of making decisions through agency rulemaking rather than with legislation.
"There is little appetite for major regulatory reform in Congress. Aside from allocating money for green infrastructure investments and international climate finance, Team Biden doesn't seem to feel like they need to alter the financial regulatory framework to achieve their climate goals," he tells GBRR. 
Berman also says that the nature of investing has changed, and greater disclosure of non-financial information, including climate impact, is a reality of the sector.
"Investors now want to know more about the climate-related impact of a company's business, whether or not it affects the bottom line. Yet more conservative think-tanks and policymakers say this just cannot be true and assign it to some sort of mass irrationality. But the nature of investor demand has changed, and non-pecuniary considerations are now the key to an unprecedented number of investment decisions." 
The letters came before President Biden addressed world leaders at his Virtual Climate Summit virtual meeting on 23 April, announcing that the United States will target reducing emissions by up to 52% by 2030.
The Treasury also announced last week the launch of its "climate hub" that will focus on identifying climate-related financial risks. It appointed former Obama administration official John Morton, who most recently worked as a partner at a climate change advisory and investment firm, to lead the hub.
---
Copyright © Law Business ResearchCompany Number: 03281866 VAT: GB 160 7529 10