ECB "nervous" over banks using capital buffers, conference told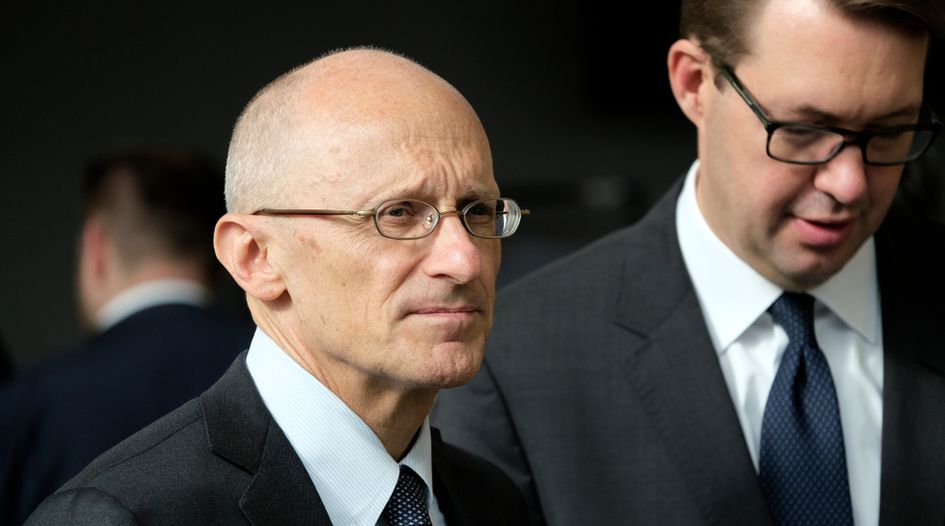 The Single Supervisory Mechanism is not ready for EU banks to use their capital buffers, and needs to provide clarity on when they can dip into them, a key figure at a major European bank has told the European Banking Institute's annual banking regulation conference.
Speaking at the EBI's Global Annual Conference on Banking Regulation via webinar on 11 February, Eduardo Ávila Zaragoza, head of Spanish banking group BBVA's global supervisory relations department, called the European Central Bank's rules around utilising capital buffers unclear.
He said the ECB's the Single Supervisory Mechanism (SSM) was "not ready" for banks to use the buffers. "Maybe we should think of making better regulation for the buffers' usability, or reduce the Pillar 2 requirements," he said.
ECB supervisory board chair Andrea Enria said in January that he expects more banks in the region will need to utilise exceptional capital relief once the true extent of their non-performing loans is revealed.
But Ávila said that while Enria has been vocal on the subject, the reality is different. "A supervisor is a supervisor – they want to see the capital ratio of the banks they are taking care of to be better than others. Even though the message from upstairs is another one, I think it would make them nervous to see banks using the buffer," Ávila said.
Giacomo Calzolari, an academic at the European University Institute in Florence, said the design of the regulations for the buffers is "missing a dimension" in the form of a coordination mechanism, which he argued could explain why few banks have used them during the pandemic.
"Individually, banks may prefer to avoid using their capital buffers even if in economic terms it is the right time to do so, as it may signal to the market they are having difficulties. I think there is a big issue with the logic of collective action here, and [national] authorities could play a role in helping to build coordination on when to use them."
The ECB has estimated that non-performing loans (NPLs) across the eurozone could reach €1.4 trillion by the end of the covid-19 pandemic. But the portfolio of NPLs will be largely made up of corporate loans rather than retail mortgages, marking a key difference from the NPL scenario that followed the 2008 financial crisis.
The European Commission published a strategy in December, outlining how it plans to prevent a future build-up of NPLs across the European Union. Among its objectives was to encourage the establishment of national asset management companies (AMCs) – or bad banks – among member states, and for them to share data via a European data hub and best practices as part of a regional network.
But Ignazio Angeloni, a former member of the ECB's supervisory board, told delegates the AMC route to solving the influx of NPLs is threatened by negative stigma.
"Implementing a bad bank means recognising there is a big problem, maybe a systemic one, in the national banking sector," he said. "Very few countries, and very few politicians, are ready to admit that."
He explained that an EU-wide bad bank has been difficult to implement because NPLs were, from the outset, concentrated heavily in certain countries, and insolvency regimes were and remain highly differentiated. This has resulted in core EU countries proposing national AMCs, which would be tailored to the needs of the countries concerned. For example, the German government quickly rebuffed a 2017 proposal to create an EU-wide bad bank to address the €1 trillion in NPLs at large eurozone banks.
"To fix a national bad bank you have to make it a bit European, and to fix a bad European bank you have to make it a bit national, which is why it tends to never get done," Angeloni added.
Enria told the European Parliament in October 2020 that an EU initiative, connecting a network of national AMCs via common funding mechanisms and harmonised pricing, would be a "useful tool for addressing the expected rise in NPLs and ensuring a level playing field within the banking union".
But Emilios Avgouleas, an academic at Edinburgh University, said that while AMCs could be a viable method of addressing the next generation of NPLs – which he said are "very focused" in the hospitality, aviation and tourism sectors – European regulators need to provide greater detail on how to price them.
Under current regulations, the NPL transfer price cannot exceed the real economic value (REV), which should reflect the "underlying long-term economic value of the assets on the basis of underlying cash flows and broader time periods".
Avgouleas pointed out that "if the market is not liquid, you do not have a market value". He called on EU regulators provide a "much clearer definition and framework of real economic value."
Another part of the ECB's NPL management plan is the harmonisation of applicable insolvency frameworks across the EU, as a way of increasing legal certainty related to recovery of defaulted bank loans.
Simon Gleeson, a partner at Clifford Chance, told the conference that while the EU's Restructuring Directive serves to boost rescue culture, the problem is that a rescue has to start much earlier than an insolvency.
According to the Capital Requirements Regulation, a default takes place when a financial institution considers that the obligor is "unlikely" to pay its credit obligations without making recourse to actions such as realising security.
"The danger to some extent is a situation where a large number of borrowers tell banks they could feasibly survive the end of emergency covid-19 support measures, if their obligations are restructured. But banks would find it hard to defend not classing those loans as defaulted," Gleeson says.
Even if those banks could find a way to restructure those obligations instead of classifying them as defaulted, Gleeson said they would quickly run into a roadblock. "It roughly takes one banker one week to restructure a borrower's borrowing, and if you multiply that by the number of those that will need this restructuring post-covid-19, you rapidly conclude that even more than a capital problem, there is a manpower problem," he said.
The conference was moderated by Eddy Wymeersch, former chair of the Committee of European Securities Regulators, and current chairman of the Public Interest Oversight Board in Madrid.
EBI announces new board member
The EBI also announced the appointment of Klaus Löber to its advisory board on 16 February.
Löber is chair of the CCP Supervisory Committee at European Securities and Markets Authority (ESMA), where he oversees the supervision of central counterparties as well as related EU and global regulatory activities.
Before joining ESMA in December 2020, he held the top position in the ECB's oversight division for two years, where he led the oversight of financial market infrastructures, payments instruments and schemes.
He has also had spells at the Committee on Payments and Market Infrastructures (CPMI), European Commission and the German central bank.
Enrico Leone, chancellor of the EBI, welcomed Löber's appointment. "Klaus' deep experience in financial market infrastructures and his privileged perspective on the European financial markets for his role with ESMA will bring an invaluable contribution to the debate within the board and the activity of the institute," he said.
The EBI, based in Frankfurt am Main, is an international research centre for banking studies. A joint venture between pan-European academic institutions, it aims to promote dialogue on regulation and supervision of financial institutions and financial markets.
---
Copyright © Law Business ResearchCompany Number: 03281866 VAT: GB 160 7529 10