Greece's Alpha Bank offloads €10.8 billion NPL portfolio, with White & Case advising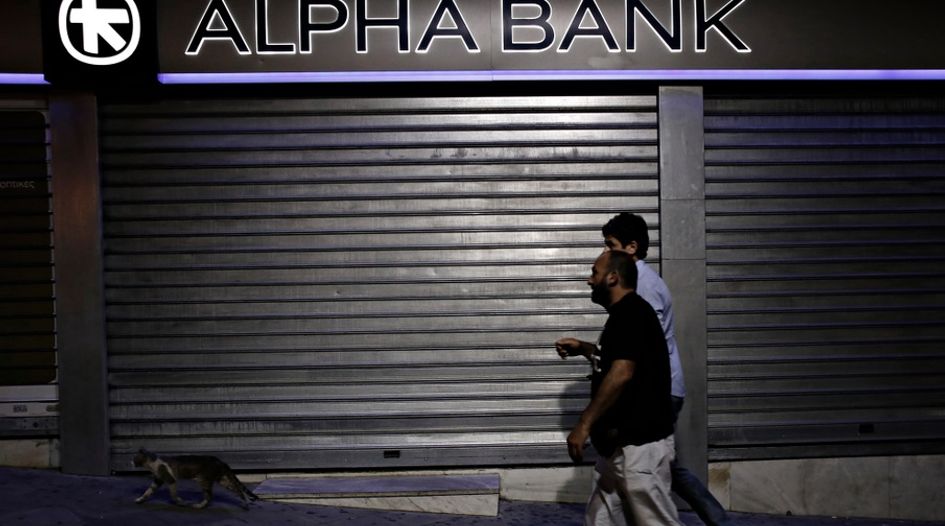 Greece's second-largest bank, Alpha Bank, has agreed the sale of a €10.8 billion portfolio of non-performing loans to US private equity fund Davidson Kempner, following a governmental push to reduce the country's NPL pile.
Alpha Bank announced the agreement in a press release on 22 February.
On completion, the transaction will radically transform Alpha Bank's balance sheet, reducing its non-performing exposure (NPE) and non-performing loan (NPL) ratios in Greece to 24% and 13% respectively, down from 43% and 29% in September last year.
The bank retained Zepos & Yannopoulos for the matter, with a team that included regulatory partner Elena Papachristou, and White & Case partners Debashis Dey, Marcus Booth and Hyder Jumabhoy in Dubai and London. It also hired Deutsche Bank as financial advisor.
The transaction is part of the Hercules Asset Protection Scheme, a Greek government-backed initiative to tidy up balance sheets and address a €30 billion NPL pile left by the country's 2009 financial crisis. It is expected to close in the second quarter of 2021, pending all regulatory approvals.
Alpha Bank's sale of the portfolio, known as "Galaxy", will be the second-largest rated securitisation of NPEs in Europe after Italian bank Monte dei Paschi's €24 billion securitisation in 2018.
Vassilios Psaltis, chief executive officer of Alpha Bank, said the deal was "a decisive step" in dealing with its legacy asset quality issues from the prolonged recession in Greece.
"In spite of the unprecedented conditions we experienced due to covid, we are proud to have managed to sign such a complex transaction in just eight months from launch, to attract significant international investor interest and to fully meet our targeted capital envelope for this transaction," he added.
New-era NPLs
According to the Hellenic Bank Association, Greek banks deferred repayments on around €30 billion euros worth of loans in 2020 to allow borrowers to cope with the financial fallout from the covid-19 crisis.
In line with European Banking Authority rules, deferral periods cannot exceed nine months, which means Greek borrowers are soon to resume normal payments. Bank of Greece estimates put the estimate of post-covid non-performing loans at around €10 billion.
Greece had an overall NPL ratio of 36% at the end of September 2020, which was already well above the euro zone average of 2.9%.
Yannis Stournaras, governor of the Greek central bank, has been a strong advocate for the creation of a national asset management company (AMC) – otherwise known as a "bad bank" – to address the country's NPL problem.
In a recent address to Greece's parliament, Stournaras appealed to the government to implement a national AMC and said the NPL situation in Greece needs to be "solved immediately".
Stournaras also said a recent interview with Greek publication Capital, after the ECB chair Andrea Enria himself floated the creation of national AMCs as a possible solution, it was an "opportunity not to be missed".
Emilios Avgouleas, banking law professor at the University of Edinburgh, tells GBRR that securitisation is a "one-way road to liquidation of the company and crystallisation of collateral" and that Stournaras has reason to be positive about AMCs.
"Liquidation could occur in cases where companies can be turned around, which is where AMCs have an advantage. They are patient and can weather any small dips, and if they hire turnaround skills, can help rescue viable companies," he says.
Counsel to Alpha Bank
Regulatory partner Elena Papachristou, and partners Christina Papanikolopoulou, Kely Pesketzi, Maria Zoupa, Daphne Cozonis, and Alex Karopoulos, director Georgia Voutsa, and associates Niki Ignatidi and Athina Palli in Athens
Partner Debashis Dey and counsel Claudio Medeossi in Dubai and London, partner Marcus Booth with associates Adam Gao and Mohamed Hasan in Dubai, and partner Hyder Jumabhoy in London
Financial advisors to Alpha Bank
Deutsche Bank
---
Copyright © Law Business ResearchCompany Number: 03281866 VAT: GB 160 7529 10