Ripple claims SEC lacks authority to regulate in US$1.3 billion crypto lawsuit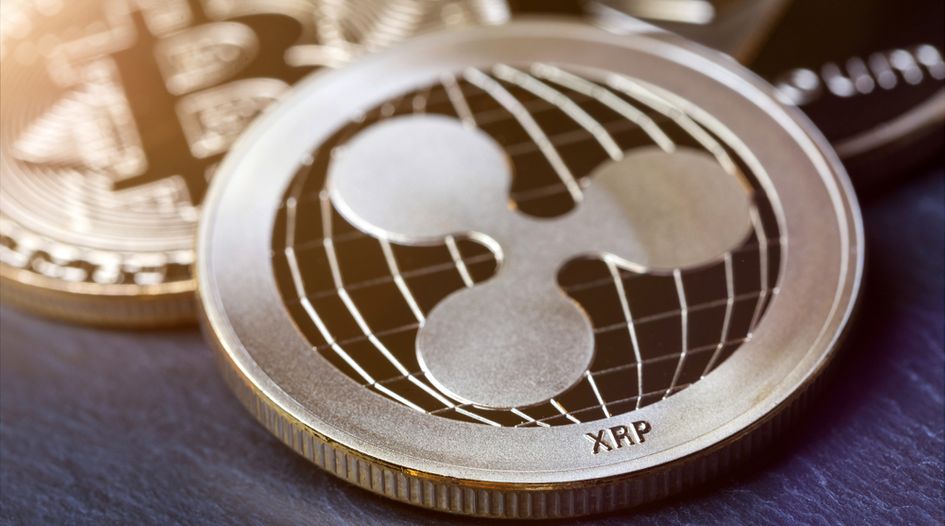 US fintech Ripple Labs has told the US Securities and Exchange Commission it lacks jurisdiction to regulate its digital coin as a security, a month after the regulator filed a billion-dollar lawsuit.
In a 29 January formal response to a complaint the US Securities Exchange Commission (SEC) filed against it in December, San Francisco-based Ripple argued its XRP coin was not a security, and the SEC's characterisation of it as such contradicted interpretations from two other US federal organs.
In its action filed against Ripple at the US District Court for the Southern District, the SEC alleges that Ripple had raised funds through the sale 14.6 billion units of XRP worth US$1.3 billion in an "unregistered offering" to investors worldwide.
In its defence the company rejects the SEC's characterisation of XRP as an investment contract, insisting that it functions as a virtual currency, which does not require a registration statement.
Ripple says XRP is "not a security, and the SEC has no authority to regulate it as one," and accused the agency of "picking winners and losers" as it has not subjected fellow cryptocurrencies, such as Bitcoin or Ethereum's Ether, to the regulation.
Ripple also pointed out that the SEC's determination of the digital coin as a security is at odds with interpretations from two US federal departments. The US Department of Justice (DOJ) and the Treasury's Financial Crimes Enforcement Network (FinCEN) determined that XRP was trading in the marketplace as a virtual currency in both 2015 and 2020.
"When the DOJ and FinCEN reached those determinations in 2015, the SEC said not a word. Securities regulators in the United Kingdom, Japan, and Singapore have likewise concluded that XRP is a virtual currency not subject to securities regulation," it said.
It called on the courts to rapidly determine the most "consequential and overarching issue" of whether it is an investment contract or not, in order to provide clarity to the market.
In its complaint, the SEC alleges that Ripple had been offering XRP since 2013, despite receiving legal advice "as early as 2012 that under certain circumstances XRP could be considered an investment contract," and therefore a security under federal securities laws.
In its response, Ripple says it has never held an initial coin offering (ICO) or offered future tokens to raise money, and has no contracts with the vast majority of XRP holders. "Ripple's XRP holdings do not create an investment contract any more than DeBeers holdings convert diamonds into securities," it argues.
Ripple says the SEC's complaint characterises all its business transactions involving XRP over eight years, "regardless of their nature, purpose, or manner of execution, as a single offering". It argues that is contradicted by its acknowledgement in the same complaint of how Ripple's business strategy had evolved over time, with different types of sales and distributions of XRP.
It argues the SEC had "inaccurately characterised" the legal advice Ripple received in 2012, and says that a reasonable reader "actually would have concluded that Ripple Credits [a past name for XRP] were not a security."
XRP, which is the third-biggest cryptocurrency by market capitalisation, initially halved in value after the filing but has since regained ground.
Ripple enlisted Debevoise & Plimpton, led by partners Andrew Ceresney, Mary Jo White and Lisa Zornberg, and DC-based litigation boutique Kellogg Hansen Todd Figel & Frederick for the matter.
Ceresney says the SEC's case is "unprecedented and ill-conceived" and that the agency was stretching the Howey standard – a test created by the Supreme Court in 1946 for determining whether certain transactions qualify as investment contracts – "beyond its breaking point."
Stuart Alderoty, general counsel of Ripple, said in a tweet that the SEC is "at odds with its counterparts in the US and peers in other G20 markets."
He also confirmed Ripple has filed a Freedom of Information Act (FOIA) request asking how the SEC determined Ether "evolved from a security to not a security."
President Joe Biden's nominee to chair the SEC, Gary Gensler, said at an MIT conference in 2018 that there was a "strong case" for both XRP and Ether to be deemed securities at the time.
Counsel to Ripple Labs
Partners Andrew Ceresney, Mary Jo White and Lisa Zornberg, with associates Christopher Ford and Joy Guo in New York
Kellogg, Hansen, Todd, Figel & Frederick
Partners Michael Kellogg and Reid Figel in Washington, DC
---
Copyright © Law Business ResearchCompany Number: 03281866 VAT: GB 160 7529 10