FCA and MAS name women to senior leadership roles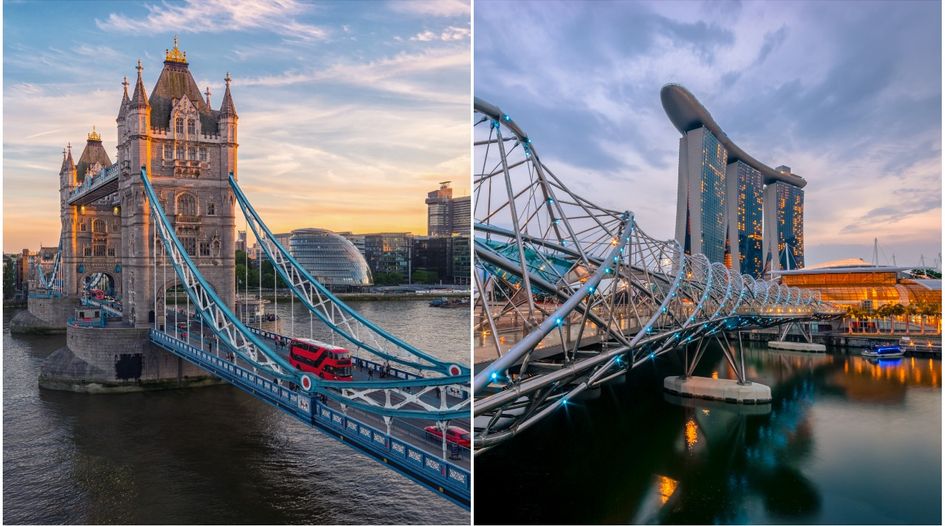 The UK's Financial Conduct Authority will have a majority-female executive committee after making four new senior appointments, while Singapore's regulator has announced its new head of financial supervision.
The Monetary Authority of Singapore (MAS) announced on 5 March that Ho Hern Shin, currently an assistant managing director for banking and insurance, will succeed Ong Chong Tee as deputy managing director for financial supervision next month.
Ho's career at MAS has seen her oversee policy formation and supervision of banks in the areas of anti-money laundering, technology risk and cybersecurity, financial risk and payment systems.
Earlier in her career she was also MAS's head of human resources and organisational development.
She will be succeeded in her assistant managing director role, in which she oversees the licensing and supervision of banks and insurance companies, by Marcus Lim, an executive director in one of MAS's banking departments.
Ong is departing MAS after nearly 35 years, having joined the regulator straight after graduating from the National University of Singapore in 1986. He has been a deputy managing director since 2005, and has headed its supervision activities since 2013. He earlier served in that role in MAS's monetary policy, investment management and financial development functions.
MAS's managing director Ravi Menon hailed Ong's legacy at the regulator. "He led the MAS teams in navigating the global financial crisis of 2009, ensuring monetary stability and safeguarding our investment portfolio. He subsequently led the implementation of the post-crisis regulatory reforms in MAS, including new rules for capital and liquidity."
FCA appointments lead to majority-female executive committee
The FCA announced four new appointments to its senior leadership on 26 February, including two newly-created roles following a recent internal reorganisation.
They include BlackRock's former global Chief Operating Officer for financial markets advisory and active equity Stephanie Cohen, who joins the regulator as its COO, while National Economic Crime Centre (NECC) director Sarah Pritchard joins as executive director for markets.
The appointments also include two newly-created roles. Jessica Rusu, chief data officer at digital bank Chetwood Financial, will become the FCA's first Chief Data, Information and Intelligence Officer (CDIIO). The FCA has also hired Emily Shepperd from Scottish pensions company Aegon in the new role of executive director for authorisations.
The appointments mean the FCA's executive committee, its most senior decision-making body, will now be majority female, with seven women to four men.
Shepperd will be the earliest to begin at the FCA, joining this month. In her role she will be responsible for overseeing firms' and individuals' applications for authorisation to carry out regulated activities.
As well as her role at Aegon, where she was director of customer services and change, she was earlier in her career COO for Europe, Middle East and Africa for Bank of New York Mellon.
Cohen and Rusu, whom the FCA describes as having "interlocking remits", will join the regulator in June, as will Pritchard.
The FCA said that Cohen, as COO, would "play a central part in the FCA's transformation, taking the lead on operational changes to make the FCA more efficient, dynamic and technologically driven".
Cohen spent 14 years at BlackRock before going freelance in 2019. A qualified accountant, earlier in her career she worked in finance and risk at Royal Bank of Scotland, and investment accounting and finance at Aegon.
She should not be confused with another Stephanie Cohen in the banking world, Goldman Sachs' recently-appointed global co-head of consumer and wealth management.
"I am truly delighted to be joining the FCA at this pivotal moment. Now more than ever, the FCA has a vital role to play in protecting the interests of consumers, and I can't wait to get started," she said.
Rusu joins the FCA after just over a year at Chetwood, having previously been a finance and analytics leader at online retailer eBay. Earlier in her career she was head of capital stress testing and advanced analytics at GE Capital, General Electric's financial services division, and worked in risk analytics at auto company Ford's credit division.
The FCA says Rusu will "evolve the FCA's relationship with big tech companies, fintechs and the wider data science community" as CDIIO.
Pritchard has spent most of her career in security, policing and regulatory enforcement. Before joining the NECC, she was a legal director at its parent department the National Crime Agency, and previously worked in risk and compliance at HSBC. She began her career at Dechert, where she trained as a commercial litigator.
As executive director for markets, Pritchard will oversee the FCA's statutory market integrity functions in its newly-established division for supervision, policy and competition – formed in December as the regulator merged two supervisory divisions into its competition function.
The new division will have two executive directors – Pritchard, and executive director for consumers and competition Sheldon Mills, whom the FCA appointed at the time of the reorganisation.
"I look forward to working with Sheldon and all FCA colleagues to shape the future of financial markets regulation, ensuring that the FCA protects and enhances the integrity of the UK and global financial system," Pritchard said.
The regulator has also made its director of market oversight Clare Cole's role permanent, after she began filling the role in an acting capacity in December.
Nikhil Rathi, chief executive officer of the FCA, said the four new hires "bring with them a deep understanding of the consumers we seek to protect, the markets we oversee, and all have track records for operational excellence".
"As we continue transforming the FCA – building a data-led regulator – their global experience and leadership, drawn from a variety of backgrounds, will be vital in ensuring we can act more quickly to reduce harm to consumers and ensure market integrity," he added.
---
Copyright © Law Business ResearchCompany Number: 03281866 VAT: GB 160 7529 10