Brooks departs OCC, finalising "fair access" on the way out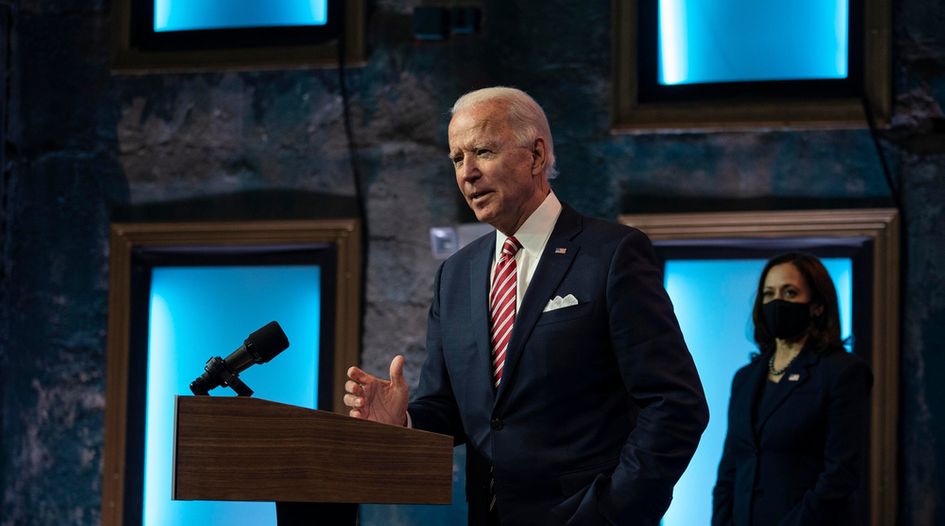 The US Acting Comptroller of the Currency, Brian Brooks, is stepping down – finalising the controversial "fair access" rule on his final day in office – as former CFTC chair Gary Gensler is reportedly being tapped to head the SEC.
The OCC announced in a press release that Brooks would leave the post on 14 January.
Brooks assumed the role of acting comptroller in May 2020 after Joseph Otting stepped down midway through his five-year term. Brooks had only joined the OCC as its new chief operating officer seven weeks earlier, after a year-and-a-half spell at crypto exchange Coinbase.
Outgoing US president Donald Trump formally nominated Brooks for a full five-year term in November, in a move that generated grumbles among Democrats who believed incoming President-elect Joe Biden should oversee the selection.
Comptrollers can be fired without cause, and it was generally believed among practitioners that Biden would eventually select his own candidate for the role. Brooks' chances of winning confirmation to a full term took a further hit on 6 January, when Democrats won control of the US Senate following a double run-off election in Georgia.
Brooks' eight-month stint as acting comptroller was controversial for his advocacy of cryptocurrency and blockchain innovation in the banking sector, and for a rulemaking that required banks to restrict risk assessments in lending decisions to the risk profiles of individual borrowers, rather than particular types of economic activity.
The OCC finalised that rule on Brooks' last day in office, despite vociferous criticism from the banking industry that the rule would increase compliance burdens and prevented banks from considering reputational risk when making lending decisions.
Commenting on the rule's finalisation, Greg Baer, president and CEO of the Bank Policy Institute – an early and consistent critic of the proposal – said he was "disappointed the Acting Comptroller chose to fast-track the final approval of this hastily conceived and poorly constructed rule on his last day in office".
"Its substantive problems are outweighed only by the egregious procedural failings of the rulemaking process, and for these reasons it is unlikely to withstand scrutiny," Baer added.
In the crypto area, the OCC recently also issued guidance permitting national banks to use blockchain technology and stablecoins for payment activities, which was considered a major shift in policy.
It followed moves to allow nationally chartered banks in the US to provide custody services for cryptocurrencies and to permit US banks to provide services to stablecoin issuers.
Six members of Congress sent a letter to the acting comptroller in November criticising his "excessive focus" on cryptoassets during a pandemic. The letter said the "unilateral decisions" made by the OCC on crypto matters had the potential to adversely affect banking and financial activities "well beyond its jurisdiction."
In his departing statement, Brooks said it was a "great honour" to serve in the role, and that the actions the OCC took as a team "will help ensure the federal banking system operates in a safer, sounder, and fairer manner for decades to come".
"The OCC is the most extraordinary of federal agencies filled with the most dedicated, professional, and gifted staff any executive can hope to have. I am extremely proud of what we have accomplished together through what have been extraordinary times by any measure," he added.
OCC chief operating officer Blake Paulson will assume the acting comptroller role on an interim basis, until a permanent successor can be appointed.
Gensler in line for SEC
Meanwhile, recent US media reports suggest President-elect Joe Biden will name Obama-era regulator Gary Gensler as chair of the US Securities and Exchange Commission (SEC).
Gensler, who headed up the Commodity Futures Trading Commission (CFTC) from 2009 to 2014, has been leading Biden's transition plan for financial industry oversight since November.
He is currently in charge of a 14-member agency review team tasked with overseeing the takeover of the Federal Reserve, CFTC, Federal Deposit Insurance Corporation (FDIC), National Credit Union Administration, and SEC.
SEC chair Jay Clayton officially stepped down from the post on 23 December, leaving commissioner Elad Roisman as interim head.
During his time at the helm of the CFTC, Gensler implemented stricter swaps trading rules mandated by Congress following the 2008 financial crisis, and oversaw the prosecution of several banks for their involvement in the Libor rigging scandal.
A 20-year alumnus of Goldman Sachs, Gensler's tough line on derivatives regulation surprised some of his more progressive critics, who at the time of his appointment raised concerns that an earlier stint at the US Treasury as assistant secretary for financial markets under Bill Clinton's administration had not demonstrated similar zeal.
In his time away from government Gensler has taught at the Massachusetts Institute of Technology's Sloan School of Management about fintech and blockchain issues – expected to be a key focus of the SEC during the Biden administration. He has also testified before the US Congress on the issue, striking a bullish tone and suggesting that Facebook's Libra stablecoin met the requirements to be considered a security under US law.
Biden's inauguration will take place on 20 January.
SEC and CFTC shuffle
The SEC and CFTC have also announced further staffing changes.
The SEC announced on 12 January that its acting director of enforcement Marc Berger would be departing the agency this month.
Berger jointed the Commission as director of its New York regional office in 2017 and was named deputy director of enforcement in August 2020.
During his spell as director, Berger presided over the initiation of the US$1.3 billion securities lawsuit against cryptocurrency company Ripple Labs in December, and the enforcement action against messaging software company Telegram to return US$1.2 billion to investors from its botched cryptocurrency offering.
He also acted against the New York Stock Exchange and two affiliated exchanges for regulatory failures, including the first-ever charged violation of "Regulation SCI" – a set of rules that monitor the security and capabilities of US securities markets' technological infrastructure.
"Marc has been an outstanding leader at the Commission, always bringing integrity and excellent judgment, as well as his experience from his many years as a federal prosecutor, to each of the matters under his leadership," said Acting Chairman Roisman.
Meanwhile, the CFTC announced that its general counsel Daniel Davis will leave the agency on 15 January.
Davis joined the agency in 2017 from Proskauer Rose in Washington, DC, were he spent four years as special counsel.
As CFTC general counsel, Davis reviewed the agency's rulemakings and enforcement actions, managed its appellate docket, and provided counsel on legislative issues. He also helped launched LabCFTC, a platform that "promotes responsible fintech innovation and accelerates CFTC engagement with fintech and RegTech solutions."
"When I recommended Dan for this role, I knew he would be the ideal general counsel for this agency. He has more than met that high bar, displaying his wide range of incredible talents in advising the Commission over the past four years," said agency chairman Heath Tarbert.
"In short, Dan is the real deal and will be dearly missed here at the agency," he added.
"It has been the honour of my career to serve as general counsel of the CFTC," Davis posted on his LinkedIn account.
Davis has confirmed he will take up a role in the private sector, though his destination so far remains unclear. Rob Schwartz, who currently serves as deputy general counsel for litigation, enforcement, and adjudication, will become acting general counsel upon Davis' departure.
---
Copyright © Law Business ResearchCompany Number: 03281866 VAT: GB 160 7529 10